The POLIS University's innovative approach to teaching structures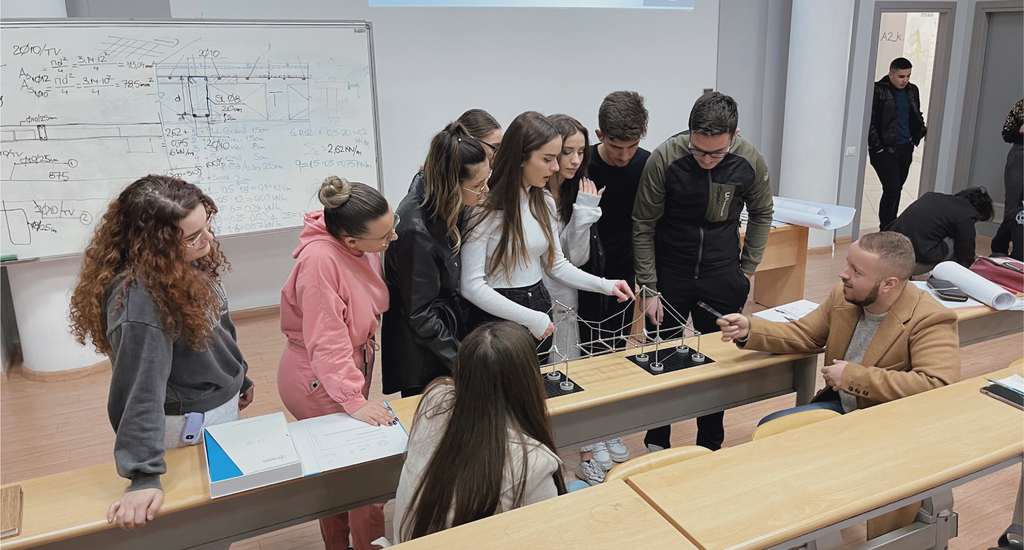 When it comes to structural engineering, an enormous amount of theory and math becomes part of students' lives on the path to achieving excellence.
Although understanding the theory may be fine for some, many students find it challenging to translate structural concepts into the concrete world.
Knowing the challenge, the Department of Architecture and Civil Engineering at POLIS University (Albania) saw in Mola Structural Kits a way to deepen the understanding of the students, transform the study routine and make it more enjoyable.
In this article, we talk about how POLIS University applies Mola in everyday life.
How does POLIS University use Mola with its students?
The main objective in introducing Mola is to broaden the design skills and strengthen the engineering knowledge of future architects and civil engineers who graduated from POLIS University.
Mola Structural Kits have been used for approximately three years, with students of the second and third years of the Architecture course and also students of the second year of the Civil Engineering course. Mola has been used as part of disciplines such as Construction Science 1 and 2; Statics, Dynamics, Resistance of Materials, Theory of Structures and Theory of Elasticity.
Professor Dr. Nikolla Vesho explains how the program for using Mola is designed: "In architecture classes, we use it mainly for introduction, but also [to explain] aspects of geometric stability of simple structures. While in Civil Engineering classes, we mainly use it [to understand] aspects of static configuration, theory of elasticity, deformations applying different loads, and finally for some scenarios of collapse mechanisms after seismic actions."
Students experience Mola for about six weeks of the annual 24-week academic cycle. Initially, they experiment freely with simple, stable structures based on theoretical knowledge acquired in class. Afterward, groups are formed where they can follow the tutorials contained in the Mola manuals.
During the last weeks of the program, students assemble more complex structures. They are motivated through a competition, evaluated based on logic and construction time and on a static load test accompanied by seismic activity applied by a shaking table.
Over the last years using Mola, the model have become a fundamental part of teaching structures in Architecture and Civil Engineering courses at POLIS University, even fostering collaborations between the courses.
Through the use of the Mola Structural Kits, students at POLIS University are gaining an understanding of structural principles based on tangible and concrete experience. The kits make it possible to build and test different structures, giving them hands-on experience that is essential to learning.
By working with Mola, students can see how different materials and construction methods can impact the stability of a structure. This experience will later be essential in their projects, consolidating the knowledge needed to design safe and effective constructions.
Mola and POLIS: results and next steps 
The results obtained are quite positive, as Professor Dr. Nikolla Vesha says: "Mola is a tool that reduces the imbalance between theory and practice. It also reduces the barriers between teacher and student, creating a certain atmosphere in the classroom. Through Mola I feel more comfortable as a teacher and I also have an additional tool in the framework of explanation."
In the future, the university hopes to expand the connection between the institution and Mola. Professor Dr. Vesha states, "Our long-term goal is to consolidate the connection with Mola. Including more tangible cooperation through the exchange of experiences and workshops, but also incorporating the innovations Mola introduces to the system."
What do you think of how POLIS University uses Mola Structural Kits? Would you like to try something similar at your university? Tell us in the comments.